10 Winter Craft Ideas For Grandparents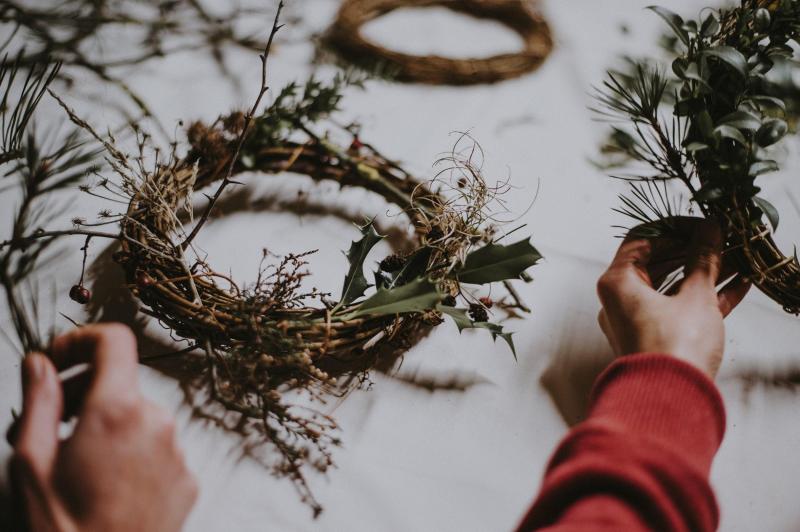 Photo by Annie Spratt on Unsplash
Making crafts with the grandkids is a ton of fun, but after making paper-mache snowballs, paper snowmen, and cutting out snowflakes, you might be ready for a project that's a bit more grown-up. So, while your grandbabies go out and enjoy a snow day, why don't you grab a mug of hot chocolate, set the television to the Hallmark Channel, and start crafting. Here's a list of 10 Christmas and winter craft ideas to try this year.
1. Wreath
There are so many different ways to make a wreath. If you want to go for something traditional, use wreath wire and fake greenery to create something stunning. Adding ornaments, fake snowflakes, and a ribbon is a fun way to give your wreath some flair. Or, if you want an alternative way to decorate, try using burlap or an old scarf around a wreath wire to try something new.
Though fake pine may be the traditional garland, trying something new may result in a new favorite Christmas decoration. Making pom-pom garland is very simple, cheap, and quick. It doesn't require many tools, and you can experiment to make the piece your own. Another perk with pom-pom garland is that you can choose the colors!
3. Embroidery
Embroidery and cross-stitching are both crafts that require patience--but they are the perfect activity for cold winter days when you'd rather stay inside. There are patterns for these similar activities, or, you can ditch the pattern and try something new. Embroidering pillows for your couches or cross-stitching a holiday greeting can add a festive, homemade flair to your home.
While terrariums are known to house succulents and cactus, they also work to encapsulate dreamy winter scenes as well. You can fill your terrarium with whatever you want, like mini pine trees, fake snow, moss, deer and more. Your terrarium will be a great accessory to your table, desk, or entryway.
Burlap garland is another alternative to the green pines people usually decorate with, and it's adorable! You can use brown burlap, or get creative using holiday colors like red and green. Many people like to use a strand of lights for tying their burlap for extra pizzaz.
If you don't have space for a traditional Christmas tree or you just want to add more decoration to your home, consider making a tree out of pinecones! This craft is especially useful if you have plenty of pinecones at your disposal. This tree will add a natural, woodsy feel to your home.
Nativities are amazing Christmas decorations. Many cultures have a way of depicting the birth story of Jesus, so looking at the different nativities can be inspiring. Making a nativity can be simple and inexpensive, while still being beautiful!
Wooden letters allow for a lot of creative freedom. You can modge-podge holiday paper to them, you can paint them, or even leave them raw if you want. Not only is there a wide berth of creative freedom, at thoughtsinvinyl.com there a many wooden letters and shape options to choose from.
9. Painted Christmas Ornaments
Ornaments make wonderful decorations, not only for trees, but also in jars, on wreaths, and for your table. If you want to jazz up your ornaments a bit, why not try painting them? You can add your personal touch to each ornament to make it something you love. You can even lookup tutorials for marbleizing them for a cool effect or using chalk paint to write a fun message.
10. Stockings
While stores have plenty of options for stockings, they are also easy to make yourself. All you need is a pattern and the material you want to use (and a sewing machine). Making stockings allows you to customize them how you'd like, and you can have a coordinated set for the family.
These Christmas crafts are perfect activities for the holiday season and will make adorable additions to your home. Happy crafting!