Buying A Walk-In Tub? Read This Before You Do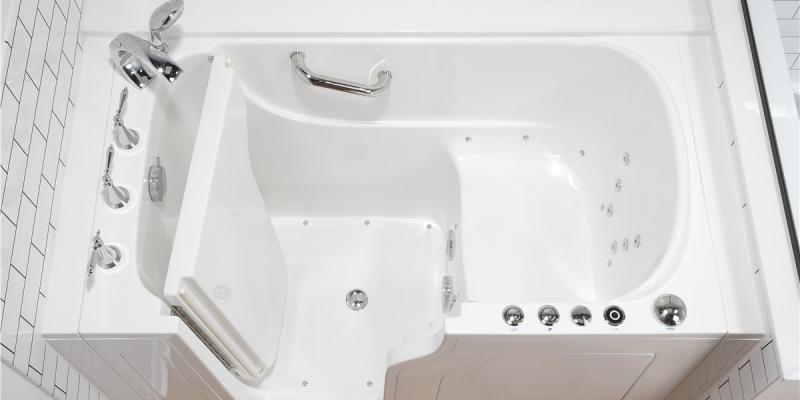 Walk-in tubs are going to solve all your bathing problems if you believe all you hear from your local salesman. However, they are certainly not for everyone. Before you spend a fortune, here are four problems with walk-in tubs that you might experience.
Problems with Walk-in Tubs
You Have To Walk In
If you can walk and are steady on your feet, then you might benefit from a walk-in bath. However, for those that are in wheelchairs or recovering from a stroke or surgery, a slide-in bath would probably be more useful.
You will still find it incredibly difficult to get into and, if your condition worsens in the future, you might even find it impossible. Walk-in tubs are so expensive that you need to make sure that you will get your money's worth.
They Aren't That Comfortable
Walk-in baths are often said to offer the elderly and infirm a return to the comfort of their tub before they were less mobile. The truth is that they don't. You can't just fill up a walk-in and dive straight in - you have to sit there while it fills up.
You can't lie down - you will just be sat there with a straight back on what can be an uncomfortable seat. And you'll still be sitting there in the cold when the bath is draining. If none of this sounds appealing, then perhaps a walk-in tub isn't for you. You may even have to spend more to get a good adjustable lift chair to help you.
Not Easy To Use, Even With Help
If you have a carer helping you in and out of the bath, it can be incredibly difficult for them. The tubs are usually very small and tight. And when you bear in mind that you will have no clothes on - and you will be wet - it will be very hard for them to get a good hold on you to help you out safely.
Wider doors are better, of course, but it will still be hard for you to have a nice experience in the bath, whatever a salesman might tell you.
You May Not Get Health Insurance Coverage
Many people wonder whether walk in tubs are covered by medicare. Does blue cross blue shield cover walk-in tubs? Although you may see your walk-in tub as a necessity, you may not get help with the costs from your insurance company. This could be the case whether your health coverage is with Anthem Blue Cross Blue Shield as a young person, or you are a senior with a Medicare plan in place.
The reason? It involves a change to the home and is not classed as medical equipment, which Medicare B and Medicaid do cover. It is important to check your Medicare and insurance plans before investing in what can be a very expensive piece of equipment.
They Aren't Incredibly Safe
If you are unsteady on your feet, then walk-in tubs could cause you problems. There is usually a step to get up, and then you might have to twist yourself around to sit down.
The doorways are often very narrow and difficult to navigate through and, of course if there is an emergency you have no way of getting out. The door cannot be opened until your bath has drained.
Whether you are buying a walk-in tub for yourself or trying to help a loved one who has mobility issues, there is a lot to think about. We hope this article has shone a light on some of the problems you could encounter.
---
More Resources: write for us health | write for us elder care | Insurance Guide